[biographies] Érik Bullot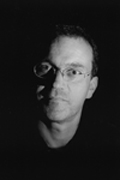 Érik Bullot was born in 1963. After studying at the National School of Photography (Arles) and at IDHEC - Institute for Advanced Cinematographic Studies (Paris), he has directed a number of films that lie midway between experimental cinema and artist's film. His filmography includes more than twenty titles, amongst them Le Singe de la lumière (2002), Glossolalie (2005, DVD distributed 2006), Trois faces (2007), L'Alliance (2010) and Tongue Twisters (2011), Faux amis (2012). His work has been shown at a number of festivals and museums, notably the Jeu de Paume (Paris), the Georges Pompidou Centre (Paris), the Enana Marrón Cinema (Madrid), the Biennial of Moving Images (Geneva) and the Centre for Contemporary Culture (Barcelona). In 2003, Edtions Léo Scheer published a monograph on him accompanied by a DVD.


He is a member of the collective pointligneplan, and editor of pointligneplan, Cinéma et art contemporain (Éditions Léo Scheer, 2002). He recently published an essay Sayat Nova, (Yellow Now, 2007) and Renversements 1. Notes sur le cinéma (Paris Expérimental, 2009).
He has taught in various schools of art (Marseille, Le Fresnoy, Arles, Avignon). He was visiting professor at the University of New York at Buffalo (2009-2011). He teaches film at the École nationale supérieure d'art de Bourges and is director of Postgraduate Program Document and contemporary art at ÉESI.