Call for applications : Document and Contemporary Art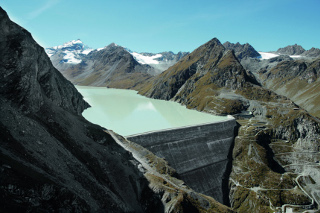 Grande Dixence Dam, Valais, Switzerland

CALL FOR APPLICATIONS
DOCUMENT AND CONTEMPORARY ART
The contemporary geological landscape is affected by deep structural and political instability. How is the figure of the dam to be understood ? As a physical construct, an object of political resistance and environmental conflict ? Yet a dam also possesses a broad metaphorical dimension as an obstruction device, a barrier akin to the barricade. This is the starting point for research which will be carried out over the course of 2016-17 in the Doctoral-level program Document and Contemporary Art.
Launched in October 2010 at the initiative of the European School of Visual Art (ÉESI), in partnership with the École nationale supérieure d'art de Bourges (ENSA-Bourges), the Doctoral-level program will be run from this year on by a partially renewed academic advisory team joined by guest researcher Mabel Tapia, coordinator of the Latin-American network Red Conceptualismos del Sur.
The program is open to art or film students, young curators or theorists seeking to prolong their studies through a three-year, doctoral-level program, irrespective of media or technique. Participants are expected to follow the program's collective activities and to undertake individual research integrating artistic production and theoretical reflexion. Individual research projects must be validated by a committee made up of the academic advisory team and an external assessor at the end of the first year. Successful completion of the three-year program enables participants to obtain a PhD-level Degree in artistic research (DSRA).
The program's activities are condensed into once-monthly meetings of one week. For these meetings, the program functions as a seminar, inviting artists, theorists or curators. Participants are required to attend the collective research seminars and to engage in a regular writing practice in the form of reports and correspondence.
An annual journal, Cahiers du post-diplôme, provides an account of the program's activities by bringing together writing and other work from the participating artists and invited guests. The journal's 6th issue is forthcoming in October 2016. The partnership with the Film and Critical Studies departments at CalArts (California Institute of the Arts, Valencia), will be renewed once again this year. A research trip to Argentina is planned for the spring of 2017.
The program recruits internationally. Principal working languages are English and French.
APPLICATION AND SELECTION PROCEDURE
Applicants should hold a national or international level-1 degree or equivalent (high-school certificate + 5 years of post-secondary study), or demonstrate equivalent artistic experience for those countries that do not typically award Masters degrees in artistic practice. Following a preliminary selection on the basis of the candidate's artistic dossier, letter of application and curriculum vitae, applicants will be invited to an interview with the selection committee. The artistic dossier, in digital form only, should include documentation of work produced by the applicant (texts, photographs, films, catalogues, articles). For film or sound works, applicants should select excerpts of 10 minutes maximum and make them available online. The letter of application (2 pages maximum) should mention the candidate's itinerary, past experiences and particular interest for the program. The candidate should also propose two referents (artists, theorists, curators) whom the selection committee can contact for possible recommendations.
Successful applicants have access to both Schools' technical facilities and receive an annual stipend of 4000 euros. The program is recruiting four young practitioners for 2016-17.
The artistic dossier and a letter of application should be sent by 25 July 2016. Results will be announced by 5 September 2016. Interviews with the selection committee will be held on 21 September 2016. The group's work sessions begin in October 2016.
Applications and inquiries should be addressed to :
concours.troisieme-cycle@eesi.eu
Program director
Joan Ayrton, artist, professor at ÉESI
Guest researcher
Mabel Tapia, researcher, coordinator of the Red Conceptualismos del Sur (RedCSur)
Academic advisors
Stephen Wright, theorist, professor at ÉESI
Andreas Maria Fohr, artist, professor at ENSA-Bourges
Associated researchers
Virginie Yassef, Aurélien Bambagioni, artists, professors at ÉESI
Arnaud Deshayes, Ferenc Gróf, artists, Annabela Tournon, art historian, professors at ENSA-Bourges
External advisors 2016-17 (pending confirmation)
Gilles A. Tiberghien, philosopher, University of Paris 1 ; Rebecca Baron, filmmaker, School of Film/Video, CalArts ; Arne De Boever, theorist, director of the Æsthetics and Politics MA Program, CalArts ; Sophie Wahnich, historian, CNRS ; Catherine Malabou, philosopher, University of Kingston (UK) ; Apichatpong Weerasethakul, filmmaker (Thailand) ; Susan Schuppli, artist (Canada) ; Nicolas Kramar, geologist (Switzerland) ; Brian Holmes, author and activist (Chicago) ; Center for Land Use Interpretation (Los Angeles) ; Iconoclasistas, cartographers and artists (Buenos Aires) ; Roberto Jacoby, artist (Buenos Aires) ; Ana Longoni, art historian (Buenos Aires).